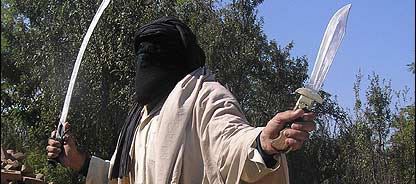 For the last year and a half, the fast-escalating crisis in Swat has gripped the attention of the entire nation of Pakistan. We have all been reading, mostly in awe, about the on-going insurgency in Swat, bombings of girls' schools, high-handedness of Pakistan Army and FC personnel, in dealing with such militant elements and about hints of Indian involvement in creating and sustaining this fiasco.
It is going to be a two-part post. In the first, I'll make an attempt at describing the history of TNSM (Tehreek e Nifaz e Shareeat e Muhammadi) and their political and religious motives behind this war. In my second post, I'll divulge in to details of Pakistan Army's current operation(s) against this militant outfit, reasons why such operations have proved to be inadequate and what can still be done in order to bring this situation under control.
My motive behind this post is to try and present a rather detailed picture of the ongoing situation in Swat, in order to enable you 'the reader' to make up your own mind about this war. Once you have done that, I'd like to read about it in the comments section, so please, do comment.
Tehreek e Nifaz e Shareeat e Muhammadi (Movement for the Enforcement of Islamic Law – TNSM)
In order to understand how TNSM came in to being, we need to pay attention to the politics and economics of the Malakand region (which is TNSM's primary base). In northwest Pakistan, three semi-autonomous states 'Dir, Swat and Chitral' were amalgamated to form the Malakand Division of the North-West Frontier Province (NWFP) in 1970. The laws of Pakistan were extended to the area, setting aside old legal systems such as Shari'ah law in Swat, under the Wali of Swat. Failures of government of Pakistan, in the aftermath of this change, in upholding law and order and provisioning of cheap justice in the area resulted in the alienation of local populace from the writ and laws of the State of Pakistan. Which is why, when a legal and armed battle ensued in 1975, in the aftermath of a dispute between the government and timber merchants about forest royalties in the area, it drew immense popularity from local populace. Zulfiqar Ali Bhutto, the then Prime Minister of Pakistan, in order to control the situation implemented a new legal system of governance in the area, under the now-infamous FCR (Frontier Crimes Regulation). This order was then challenged first in Peshawar High Court and later in the Supreme Court of Pakistan, resulting in it being annulled. Thus creating a political vacuum, where an entire division was left without a proper justice and governance system. Do note that the precedent to get state's attention through armed conflict and violence was set here. And the failure of government of Pakistan to address it in a prudent manner gave way to future repeats of such an occurrence.
Fast forward to the late 80s, when Sufi Mohammad, an activist of Jamaat-e-Islami (JI) and a cleric of Lal-Qila in Dir, had just returned to his native land from Afghanistan after his stint as one of the then celebrated 'Mujahideens'. Being very convinced of his religious ideals, it was then that he decided to step in with the demand of enforcement of Shari'ah (Islamic Law) in the Malakand division, in order to fill in the gap left in the aftermath of Supreme Court's decision to annul FCR in Malakand Division. And thus TNSM came in to being.
TNSM's first major action was its clamant demand for the introduction of Shari'ah law in Malakand Division (which, before the implementation of the 2002 devolution plan, included the present day districts of Malakand, Swat and Chitral), expressed at a gathering in Dir on May 9, 1994. It was not a mere slogan, the demand, in fact, was an ultimatum. Within a couple of weeks, TNSM took control of the area, including government offices and Saidu Shareef airport, through sheer force and announced the imposition of Shari'ah law. The group's call to arms drew large numbers of experienced Afghan fighters from nearby city of Peshawar and Bajaur Agency. The Pakistani government, as always, acted belatedly, taking almost 6 months to formulate a reply. It was in November 94′, that Pakistani paramilitary troops (FC) were then sent in, in order to take control of the situation. The resultant operation led to the deaths of more than 40 people, including a member of the provincial assembly and more than a dozen paramilitary troops, before some semblance of normality returned to the area. A peace deal was then brokered between government of Pakistan and Sufi Muhammad, in which government of Pakistan agreed to implement Shari'ah law in Malakand divison. But Sufi Muhammad declared, only after a month of the declared ceasefire, that the implementation of Shari'ah laws in Malakand was defective and that he'll continue his struggle towards the goal of implementation of Shari'ah in Malakand.
At this point in time, while TNSM went off the radar and public eye, due to ongoing proxy wars in Kashmir and Afghanistan, it sustained its primary base of followers and continued building upon it. The political leadership in the country, for whatever reasons, failed to see and acknowledge that as a problem and thus didn't feel the need to address it. The lack of proper implementation of the writ of government of Pakistan in Malakand division, its failure in providing means to deliver fast and cheap justice to people and a deteriorating local law and order situation made sure that TNSM never faced a dearth of followers.
The Resurgence
It was only after the September 11 terrorist attacks in the United States and the subsequent American campaign in Afghanistan that the government of Pakistan began to focus on TNSM. Sufi Mohammad by then was openly recruiting people to go to Afghanistan to fight U.S.-led forces. Soon he managed to cross into Afghanistan with approximately 7,000-8,000 volunteers to support the Taliban. When a majority of his soldiers had been either killed or captured, he returned home only to be arrested by government forces. He was ultimately convicted on April 24, 2002, along with his 30 companions, to seven years of imprisonment for inciting people to go to Afghanistan and for violating state restrictions. The organization was no longer a legitimate entity and was banned by President General Pervez Musharraf in January 2002. Some of its members drifted toward another extremist outfit; Tehrik-e-Taliban Pakistan (Movement of the Taliban of Pakistan – TTP) which was, at that point in time, operating from Orakzai agency.
While the arrest of Sufi Muhammad dealt a real blow to TNSM, his son-in-law Fazle Hayat took over TNSM under the nom de guerre of Maulana Fazlullah and helped restore the structure of the organization. He soon began making broadcasts from an illegal FM radio station installed in his mosque at Imam Dheri, in the Mutta Tehsil of Swat district. Delivering two sermons a day, he preached his version of militant Islam. At this point in time, ex President General Pervaiz Musharraf chose not to address the situation; even ignored the blatantly militant messages being broadcasted through Fazlullah sermons over the FM radio, in order to further fuel the conflict. This, in turn helped him portray his image to the world as that of a sole barrier against militants taking over Pakistan.
Then came the devastating earth quake of October 2005 in the north western areas of Pakistan. TNSM capitalised on this human catastrophe and re-energized itself. Volunteers from the TNSM led the vanguard of the relief work in the devastated areas of the NWFP. Not surprisingly, in the absence of timely official help, the locals came to admire these volunteers for their selfless devotion in helping the quake victims. TNSM at this point in time effectively started propagating that the natural calamity was visited upon the locals because they were becoming irreligious. The recommended remedy in their view was simple, living by a strict Shari'ah code i.e. defined by them. Striking when the iron was hot, they successfully campaigned for the destruction of television sets and video players. Due to the lack of education in the region, the message resonated with the locals and TNSM received a new lease of life.
Do mind, that a spineless effort on part of the MMA (Mutahidda Majlis e Amal – The combined platform of religio-political parties of Pakistan, which formed the government in NWFP from 2002 to 2007) to counter militant activities on part of TNSM was just as much responsible for furthering this crisis as ex President General Pervaiz Musharraf. MMA's stance on militancy in Swat was in fact that of practical encouragement. First serious signs of trouble came when polio vaccination teams were attacked in Swat and MMA government surrendered its own writ by asking 'permission' from TNSM that kids be given polio drops. TNSM, given the situation, further upped the ante by announcing their private security force to take care of matters of 'law and order' in the valley of Swat; Shaheen Commando Force. Police were being attacked left, right and centre. There were large scale desertions. Frontier Constabulary (FC) also surrendered in very large numbers. MMA government was still extremely hesitant to call in help from federal government. In fact they never did so. Eventually, TNSM took physical control of police stations, government offices and even Saidu Sharif airport. It was then that Federal government decided to take matters in to its own hands and called a meeting of the Security Council. Chief minister Akram Durrani tried to avoid pressure from federal government to deploy troops but things weren't really in his control. Suicide bombing had started and a large number of FC troops were killed in ambushes that involved massive amounts of explosives. Federal government then deployed troops of Pakistan army, in order to wrestle the control of Swat valley back from TNSM.
Tehreek e Nifaz e Shareeat e Muhammadi and Tehreek e Taliban Pakistan (Movement of Taliban of Pakistan – TTP)
TNSM, right after the Red-Mosque debacle, sought to forge ties with Tehreek e Taliban Pakistan (Movement of Taliban of Pakistan – TTP) led by Baitullah Mehsud, in a bid to provide an umbrella to all insurgent movements operating in several tribal agencies and settled areas of the NWFP. Since then, Fazlullah and his followers are toeing Baitullah's line, whether they are issuing a decree, signing a peace deal with the government or scrapping the same. Therefore, it appears by all accounts that the Fazlullah-led militants are working in the same mould as the TTP.
To read the second part, click here.