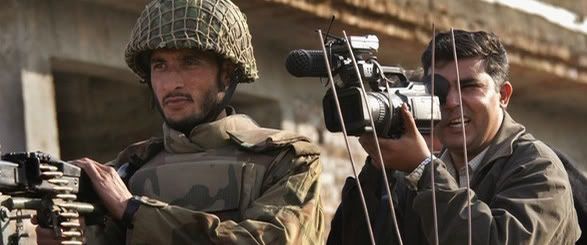 Pakistan army's first operation in Swat
Federal government of Pakistan deployed troops of Pakistan army, in late 2007, in order to curb TNSM's activities in the settled areas of Swat. The mission continued on for almost half a year and Pakistan army did manage to wrestle the control of valley of Swat back. Hundreds of militants were killed, caught or jailed. While the problem of militancy itself did not go away, it was significantly contained and people who formed the core of TNSM took refuge in Peochar Mountains which are remote and hard to reach, even for the military.
It was then that in order to fulfill promises made during the 2008 elections, the newly formed government of ANP in NWFP, pulled a plug on the operation and called the troops back. In addition to that, they also met TNSM's demand of releasing all of their members from Pakistani jails, prior to the start of peace talks. It is due to these early peace deals that TTP/TNSM got the breathing space, they very much needed. Now, they were no longer cornered to a specific bit of terrain and did not have hundreds of fellows in jails anymore, since all of them got released. This resulted in giving another lease of life to the movement. Whatever ANP's reasons were, this peace deal tossed Pakistan army's efforts of the last six months out of the window like trash. All of the sacrifices made, including that of people of Swat themselves, and hard work done, went down the drain.
ANP has since been threatened by TNSM/TTP to give up their role in the government or else face retribution. Tens of its members have already been killed, and as of now, most of its ministers belonging to Swat valley are either residing in Peshawar or Islamabad. Here is to hoping that they learned their lesson.
What's stopping the army from taking TNSM head-on like they took TTP in Bajaur?
In very simple words, the answer to that lies in the fact that we have far too many fronts open, at the same time. For example, we have a large deployment in Darra Adamkhel (a story in its own right) which is going to stay there for a long time to come. That place has been stabilized with great difficulty but thank God that we've managed to bring it under control. Bajaur is still an active battlefield, especially Mamond, Nawagai and Nawapass and even areas around Khar. Mohmand is burning and we are currently fighting there just like in Bajaur. An operation is active in Khyber agency and this area is likely to become more problematic over the course of next few months. And we happen to have a massive deployment around North/South Waziristan and these forces can definitely not be used for any other purpose. And, as if this was not enough, we have another fast rising hot spot in shape of Orakzai agency.
One of the questions that has always irked me, is that how militants in Swat are able to get their funding and weaponry, especially since Swat doesn't share a border with Afghanistan? Let me put it this way; they have dozens of heavily loaded petrol/diesel guzzling 4×4 vehicles. They drive them a lot. No matter what you do, fuel is not cheap. Where do they get finances, for that? Whatever the source is, it's the single biggest reason why they are still alive and kicking.
Now, take a good look at the areas on the map, marked in gray and their corresponding position with respect to the valley of Swat. And then ask yourselves, if it's just a co-incidence that insurgency has suddenly gone up in all of the agencies, surrounding Swat. Answer that, and you'll have the answer to the question, as to where do the artery which feeds this movement lie.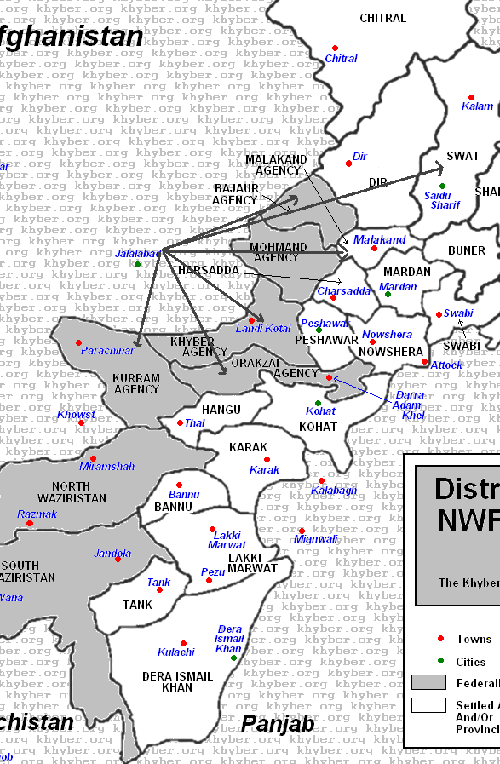 Unfortunately, since Pakistan Army is fighting on multiple fronts, it is going to take a considerable amount of time before everything goes back under control. And therefore, I don't see Swat being stabilized anytime soon. My personal belief is that if we managed to pacify Bajaur, Mohmand, Khyber and Orakzai in the near future, it'll considerably daunt operational capabilities of TNSM in Swat, scaling it down to an extent where they become insignificant.
We, as a nation, are paying a very heavy price for wasting the last eight years arguing as to whether or not we're facing an actual insurgency or if we even need to confront such organizations. It's now, that we're truly finding out, the consequences of our inability to reach upon a consensus on issues such as terrorism. The inability to reach upon a decision is worse than actually making a bad decision. For in the case of the former, you've to not only live through the consequences of your actions but also repeat this perpetual cycle, until you're actually able to stick your head out of the sand and confront the reality.
Why have military operations proven inadequate in curbing militancy in Swat?
In my opinion, there are several reasons why Swat problem is probably still not ripe for solution:
People of Pakistan do not fully recognize and admit Taliban as a problem.
ANP government has failed to adopt a clear cut stance against Taliban.
There is evidence that the number of locals involved with TNSM, for reasons discussed in the first part of this post, is large enough to cause serious problems with military efforts.
Inability of the civilian government to take advantage of space provided by Army i.e. when army clears a place, it's then the responsibility for Police, FC and government departments to fill and deny this space to militants. This includes taking measures in order to delegitimize TNSM's existence.
A rather clueless media effort, on part of the government and the military, in order to better present their side of the argument. In any given week, we see more statements being released to the Urdu press by the spokespersons of TTP and TNSM than all press releases that come out of ISPR, within the same time period.
What needs to be done?
First and foremost, we need to take care of the very cause that gives legitimacy to the existence of militant organizations such as TNSM i.e. implementation of a proper judicial and governance system in Malakand division. Nizam e Adl (A justice system based on Shari'ah laws, but produced by the government of Pakistan), should be – in accordance with the wishes of the local populace – promptly implemented. Do mind, that I'm not trying to imply that the government of Pakistan should capitulate to unjustified demands of TNSM, instead it should listen to common people of the area.
Secondly, they should keep a strict control over means of communication in and out of the valley of Swat. That includes keeping a tab on all cellular traffic, emails, roads, bridges etc.
Jam their most potent propaganda tool i.e. the FM transmitter.
Find their source of funding and block it. For no movement, no matter how committed its followers are, can continue without money and active assistance in terms of weapons.
Deal with FATA more urgently. Because as things stand, much of the funding and weapons being used in Swat, are originating from FATA. They need to cut the artery that starts from North Waziristan and goes all the way to Swat, through several agencies.
Get their act together, on the information warfare front. If a single Al-Jazeera documentary can bring about a sea of change in the points of view of youngsters (it's has since been downloaded, burnt on CDs and spread in different education institutes of Pakistan). Why can't ISPR, which is in custody of hate material, training manuals and documentary proof of activities of such organizations, not come up with a much better and more detailed documentary? ISPR should also provide access to such material to private media channels, which in turn can help sway public opinion. While I've not much to hope for, from the likes of a particular channel that likes to portray itself as the bastion of truth and fairness, which it is anything but. Other private media outlets are still good at what they do. I'd really like to see Talat Hussain, being given an opportunity to do what Rageh Omaar did for Al-Jazeera.
Try not releasing militants, as a precursor to holding peace talks with militants. Considering the fact that we've been fooled not once but at numerous times, the shame is on us for continuously falling for the same trap, again and again and again.
I'm not claiming that the points raised in my post, are somehow the silver bullet, which we need in order to get out of this quagmire. But it's my sincere belief, that it's at least a step towards achieving a solution. I'd really like to know, as to what do you, the readers, have to say about this topic. And how would you like to bring about an end to the insurgency in Swat?
In order to read the first part of this post, click here.