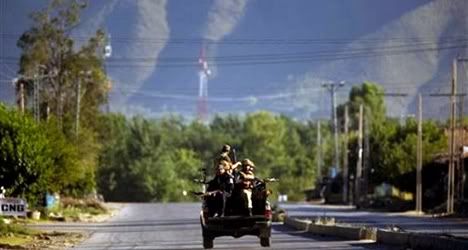 It was in early 2009, when amidst all the doom and gloom; I mentioned that we will re-take agencies one by one. And, since then, you folks have seen that we went on to re-take Bajaur, then Mohmand, Swat, Darra Adam Khel – etc. This operation, I believe, should therefore be seen as an extension of the Pakistan Army's operations in agencies, and not in isolation.
Forces present in the TO (Theater of Operation; South Waziristan)
3 divisions of the Pakistan Army. – 21,600 troops. Reserve: 1 brigade / division, bringing the total to about 28,800 troops
3 Corps of the FC [South Waziristan Scouts, Shawal Rifles & Tochi Scouts]. Each corps has about 2000 men. Bringing the total number of fighting troops to 6000.
Support units like Armor, Engineers, Supply and FACs (forward air controllers or ground liaison officers) are in addition to above mentioned troops.
Do mind that Waziristan is already playing host to 11 and 12 corps of the Pakistan Army. [Above mentioned troops, are in addition to these troops]
All in all, you're looking at a number of about 60 to 80,000 active duty soldiers in this theater of operations.
Realistic goals of the operation?
I don't believe, that any one is under the impression that the Pakistan Army is going to have it easy. IMO, it'll be a slow going operation and that the Pakistan Army is already bracing for heavy casualties.

Picture courtesy BBC
In addition to that, IMO this operation will not be an "extermination exercise" as certain analysts have pointed out, but one involving a "re-take and hold" approach, within Mehsud dominated areas of South Waziristan. I expect denial of territory to the entire spectrum of militancy, to an extent that federal government can utilize political agent(s) for exerting full administrative control over the territory.
We are not going to be able to kill every Talib, or even take out their top leadership at the offset. But like in Swat, we can do plenty to ensure that the Khasadar and the FC forces are able to comfortably enforce the writ of the state.
Denial of territory to militants and re-establishment of governance structures in essentially lost areas is, in my opinion, the bare minimum we have to achieve.
Remember that these militants have destroyed the tribal customs and the very hierarchy of tribal leadership. Just in Waziristan, that amounts to 600+ elders murdered by these thugs (according to a 4 year old report).
So there is a genuine, traditional tribal leadership (well their offspring now!) which we can help rehabilitate. Provide enough security to them that they offer to federal government the historical role they used to play.
How would TTP react?
By now, many columnists from within Pakistan and outside have posed several questions pertaining to gauging TTP's reaction to the operation – Questions such as; how do you think, TTP will respond to this operation? Apart from sending their cadres in settled areas of Pakistan, in order to create havoc, what else can we expect from them?
Well, the option of simply melting away, in my opinion, is simply not realistic, not anymore. Granted that some will definitely disperse, ultimately, the militants will balk at the idea of giving up their strongest of the strongholds just like that. You have to remember that South Waziristan is central to operations of not only TTP but also their "guests" so the idea that they will simply walk away quietly to somewhere safer is a non starter. They have invested 8 years worth of their time and effort to build up an environment and a support infrastructure that is conducive towards their militant activities.
They will give us a nasty fight and we should have no doubts about this.
Historically, it might be correct that militants used tactics of running away to an adjacent area when an operation was imminent, but do mind that we are talking about a time when entire Malakand, Mohmand, Bajaur, North and South Waziristan were firmly under their control and the state had largely walked away from its responsibility.
Now that luxury, at least to that extent, is simply not available for them.
If you folks can remember, it was in early 2009 amongst all the doom and gloom that I'd mentioned that we will re-take these agencies one by one. And you've seen that since then we went on to re-take Bajaur, Mohmand, Swat and Darra Adam Khel, etc.
The point being that these people have literally run out of places to go to. Even if we are to assume that some of them manage to escape to Orakzai or parts of Kurrum – Ultimately, we'll be more than glad to follow them there too because as and when their area of freedom shrinks, it makes easier to take them on where-ever they happen to be.
My take on the Operation
My take though is that there is too much at stake in Waziristan. Principally, TTP cadres may be able to trickle into settle areas to avoid a traumatic fate or to live for another day … but that luxury is not available to their "guests". The Uzbeks, Chechens and Arabs etc will have to fight it out because if they are caught, they'll be sent home on the first available flight and in a country like Uzbekistan, they'll be sent straight to a firing squad.
Why is Waziristan so important? Strategically speaking, it's important for the same reason that Bajaur was important because it borders Afghanistan and offers cross border movement through an area with forbidding terrain. It provides TTP and their "guests" with access to move to/from Afghanistan. If and when they face heat in Pakistan, they move to Afghanistan.
It's here, that the role of ISAF and ANA will come in to play, i.e. if they can manage to secure and seal their side of the Afghan border or not. Time for the Gov. of Pakistan and the Pakistani foreign office to ask them to 'do more'.
Waziristan is not the end of it but think of it like climbing a mountain. In terms of counter insurgency, I think we would have climbed the major part of the mountain, if Waziristan is re-taken.
Last but not least, expect many attacks throughout Pakistan. I hope that I am wrong but that's their modus operandi for exerting pressure, though a tactic of a bygone era, when public was not in favor of the war, itself.
That has now changed, especially in the aftermath of a successful operation (though military, while civilian rebuilding work is still lacking at many fronts) in Swat. Times have changed and so shall the results, this time around. InshAllah!
For our troops; good luck and god speed!